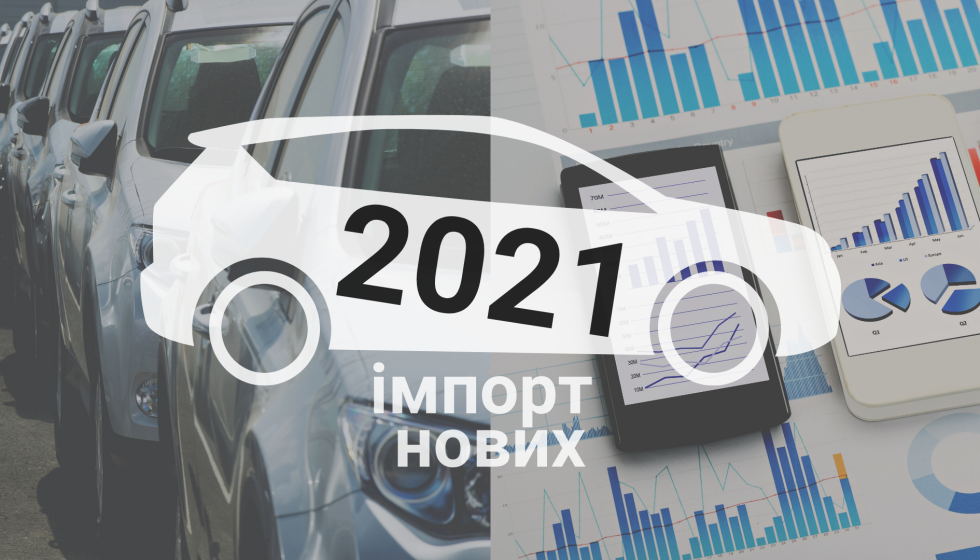 The market for new cars set a record. What did Ukrainians buy?
In 2021, Ukrainian new car dealers sold 107.8 thousand new cars. For the first time since 2014, the number of new cars purchased by Ukrainians in a year has crossed the 100,000 mark. Most of them — 97.6 thousand — were brought from abroad. At the same time, European car dealers are suffering from a shortage of new cars. Factories do not have time to produce the required number of machines due to lack of components. Experts from the Automotive Market Research Institute analyzed why the Ukrainian market has shown growth, despite the global crisis in the automotive industry, and identified the most popular imported cars in the past year.
Dynamics of imports of used cars
Compared to 2020, imports of new cars increased by 19.3%. The largest sales in 2021 were recorded in April, July and December. The worst results were in January. Thus, the impact of the global shortage of new cars on the Ukrainian market was minimal.
The Ukrainian car market has not felt the negative impact of the shortage of new cars due to its small size, said Stanislav Buchatsky, head of the Automotive Market Research Institute. For example, in the United States in 2021 sold 15 million new cars, in Germany — 2.6 million. "What is a record for Ukraine today is a percentage of the world market. Dealers managed to meet demand primarily because it was small. Unfortunately, the purchasing power of Ukrainians is still too low for the mass purchase of new cars."
Who bought new cars
In 2021, 31.6% of new imported cars (30.8 thousand) were purchased by legal entities — private and public organizations. The remaining 68.4% were bought by individuals. Compared to 2020, the share of legal entities in the sales structure increased slightly — from 29.6%.
Most new cars were sold to legal entities in December — about 41.1% of the total.
The most popular models of imported cars with mileage
When buying a new car in 2021, Ukrainians most often chose the Toyota brand — in 15% of cases. In second place was Renault (14.1%), and in third place — Kia (8.2%). This picture is radically different from the rating of imported used cars and used cars in the domestic market, where in both cases the leader was Volkswagen, and the shares of other brands are distributed in completely different proportions.
The best-selling car of 2021 was the KIA Sportage (almost 7,000 sales). The second place was taken by Toyota RAV-4 (about 6 thousand cars sold), and the third — Renault Duster (more than 5 thousand cars). Thus, the top three among the new cars were crossovers.
In addition, in the list of 10 most popular models as many as 7 places are occupied by crossovers and one — SUV. This is why the Ukrainian top is radically different from the European one. This love for crossovers in Ukraine can be explained by their practicality, versatility and affordability — because they are sold in most cases at the price of ordinary cars.
KIA Sportage — 6 954
Toyota RAV-4 — 5,992
Renault Duster * — 5 056
Renault Sandero * — 3 325
Toyota Land Cruiser Prado — 2,624
Nissan Qashqai — 2,261
Mitsubishi Outlander — 2,246
Toyota Camry — 2 152
Nissan X-Trail — 2,069
Chery Tiggo 4 — 1 768
Mazda CX-5 — 1,752
Volkswagen Touareg — 1,741
Suzuki SX-4 — 1,692
Peugeot 301 — 1,586
Suzuki Vitara — 1 548
Skoda Octavia — 1 354
Ford Kuga — 1 334
Mercedes-Benz GLE-Class — 1,200
Chery Tiggo 2 — 1 133
Toyota Corolla — 1 067
Volkswagen Tiguan — 972
Toyota Highlander — 907
Renault Dokker * — 863
Toyota Land Cruiser — 859
BMW X5 — 834
Hyundai i30 — 795
Lexus RX-791
Peugeot 2008 — 782
Peugeot 3008 — 739
Audi Q8 — 736
If the problem of shortage of new cars in Europe is not solved in 2022, the list of the most popular cars may change significantly, experts from the Automotive Market Research Institute are convinced. In the absence of popular models available in car dealerships or an increase in their waiting time for the order, buyers will choose what will be physically available for purchase. For example, the share of cars made in China may increase.
It is important to use analytics and forecasting to keep abreast of change and earn more in the car business. The Automotive Market Research Institute can help with this. Write to us at [email protected] !