About us
Our organization was established in 2020 as a result of cooperation of the best experts in the automotive industry that were united by the idea of developing a civilized automotive market.
Last 7 years the number of deals on the automotive market in Ukraine has almost doubled. The market started growing in 2016 and it keeps transforming up till now. The founders of the Institute are taking an active part in this process.
For a constant development of the automotive market in Ukraine not only changes to the laws are needed, but also a very clear reforms "roadmap". The decisions have to be focused on the future, but always considering past experience. Our expert's experience allows us to develop complex solutions.
Changes are needed in every field connected to the automotive market. Therefore one of the Institute's goals is to unite like-minded and indifferent people. The development of partnership is needed for the changes to be implemented in the win-win format.
The results of our activity will be of a high interest for the market experts, businesses, media, public organizations and government institutions. Qualified statistics, analytics and prognostics of the automotive market will become useful in various fields, like:
when setting up state policy in automotive industry;
when building a business strategy;
it will become a platform for development of pubic organizations in car industry;
it will facilitate market growth in general;
it will be a source of information for media.
Let's shape the automotive future together!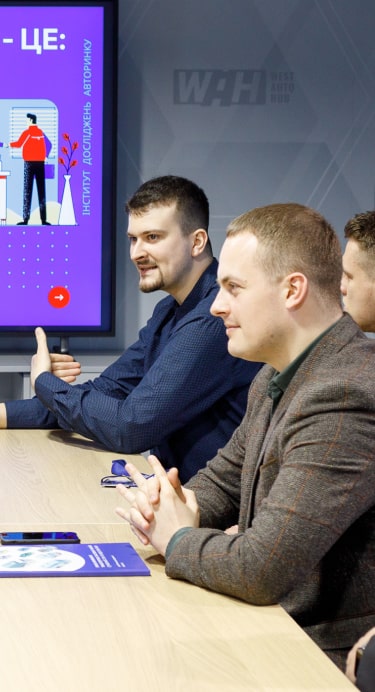 Mission
Shaping and supporting a civilized automotive market in Ukraine.
Vision
Ukrainian automotive market is a part of european automotive market with great potential.
The EU rules and standards should be applied in Ukraine. Transport and mobility should be available to everyone. Automotive culture should develop. Road safety should be on a high level. The automotive market rules should be transparent, the conditions should be fair, while fraud is minimized. All the sides of the market should be on equal terms.
Our values
Equality

We consider equal conditions for everyone to be a guarantee of to be sustainable development of the Ukrainian car market.

Justice

Humans are the basis of everything. Social justice above all. Laws should promote its conservation.

Verifiability

Ukrainian automotive market should be verified. The consumer should be confident in the goods and services. Procedures should be transparent and clear. Fraud should be minimized.

Security

Security is one of the most important human values. Market agreements should be secured as much as possible.

Responsibility

We are responsible for what we do. Only the mutual responsibility of all participants of the market and society can provide other values.

Culture

Civilized automotive market cannot exist without automobile culture - the culture of Road Traffic, automobile retro culture, qualitative automobile media.

Innovations

The future lies in automation, digitalization, IT solutions and electric mobility.

Expertise

Effective changes require an expert approach. For the formation of a civilized car market the cooperation of experts in the tangent fields is required.

Creativity

A non-standard approach allows to turn complex things into simple ones. Analytics and forecasts might become interesting and easy to understand.

Accessibility

Everyone has the right to be an owner of a car. Not everyone must have a car, but everyone should be able to buy it.
Our desires
Harmonized national law and standards of the European Union.

Audited car market with no fraud.

Favorable conditions, transparent rules and a competitive environment for the development of the car business.

Automation and minimization of the human factor in the processes of import and registration of vehicles.

Gradual increase in the level of motorization to 350 cars per 1,000 people.

Progressive system of stimulation and encouragement for the purchase of ecological vehicles such as "bonus-malus".

Rejuvenation of the Ukrainian vehicle fleet - the average age of vehicles is not more than 16 years.

Mandatory technical inspection is carried out according to European standards.

An effective vehicle recycling program.

Particular rules for import, registration and operation of retro cars.

Creation of an international car hub on the basis of the Ukrainian car market.

Local automotive industry is competitive in the world and focused on foreign markets.

Development of high-quality Ukrainian automotive media.
Team
Stanislav Buchatskyi

Chief Executive Officer (CEO), Chairman of the Board at Automotive Market Research Institute. Automotive expert, business consultant and public activist.

Ostap Novytskyi

Chief Data Officer (CDO), Member of the Board at Automotive Market Research Institute. Analyst of AUTO.RIA company.

Alexander Onyshchuk

Chief Operating Officer (COO), Member of the Board at Automotive Market Research Institute. Economist, assistant-consultant at the Parliament of Ukraine.

Julia Rykovska

Chief Audit Executive (CAE), Member of the Board at Automotive Market Research Institute. CEO of WEST AUTO HUB company.

Vadym Malyshchuk

Chief Legal Officer (CLO), Member of the Board at Automotive Market Research Institute. Lawyer, assistant-consultant at the Parliament of Ukraine.

Mykhailo Hlushko

Chief Commercial & Marketing Officer (CCO & CMO), member of the board at Automotive Market Research Institute. CEO of Automoto.ua.

Levko Prokipchuk

Associated expert of the Automotive Market Research Institute on customs issues. Expert on practical application of customs legislation of the Association of Professional Customs Brokers, ex former head of Lviv Customs.

Serhiy Matusiak

Associated expert of Automotive Market Research Institute at on automotive media sphere issues. Automotive journalist, editor-in-Chief of Auto24.