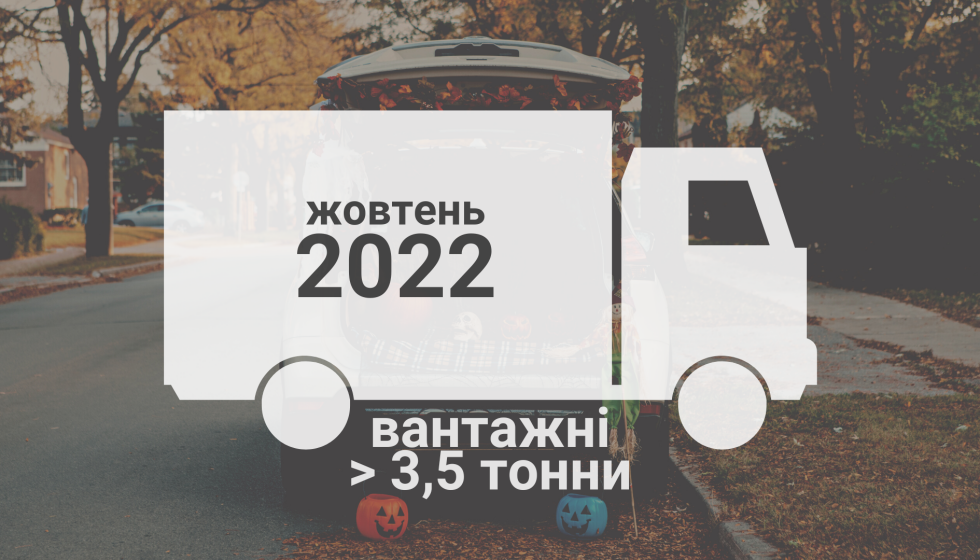 Sales of trucks weighing more than 3.5 tons are also falling. October results
Experts of the Institute of Car Market Research analyzed the statistics of vehicle registrations in Ukraine in October and identified the top models in three segments of trucks weighing more than 3.5 tons (except tractor-trailers): used import, domestic resale and purchase of new cars, including those converted in Ukraine .
Truck market dynamics
In October 2022, Ukrainians purchased 1,600 trucks with a gross weight of more than 3.5 tons (excluding tractors). This is 39.7% less than in the same period last year and 15.4% less than in September 2022.
Most of the trucks were purchased on the domestic market in October: 87.2% (1.4 thousand units). At the same time, the share of cars purchased domestically has been growing for the fifth month in a row, and in October reached a record high over the past 12 months. Used 7.7% of trucks (only 125 units) were brought from abroad.
Even fewer new trucks were purchased: 83 units ( 5.1% of the total number). Of them, 40 were imported, and 43 were converted in Ukraine.
The most popular trucks in the domestic market
According to the results of October, the leader of domestic resales remains the trucks manufactured before the mid-90s of the last century: Mercedes-Benz T1/T2 (97 deals). The chassis of these cars is used as a platform for various superstructures
In second place is the Mercedes-Benz Sprinter (65 deals), which is also used as a basis for cars of various functional purposes. Third place was taken by Mercedes-Benz Actros (51 deals).
KamAZ 5320 is still in fourth place (51 deals), and Mercedes-Benz Atego is in fifth place (48 deals). From the positive trends: last month the top 10 most popular trucks had four models of Soviet-Russian production, and in October only 3.
Mercedes-Benz T1/T2 — 97 pcs.
Mercedes-Benz Sprinter — 65 pcs.
Mercedes-Benz Actros — 51 pcs.
KamAZ 5320 — 51 pcs.
Mercedes-Benz Atego — 48 pcs.
MAN L2000 — 44 pcs.
DAF CF — 42 pcs.
Iveco Daily — 37 pcs.
GAZ 3307 — 37 pcs.
KamAZ 5511 — 36 pcs.
The most popular used trucks brought from abroad
Very few used trucks were imported from abroad in October. The main obstacle in the import of such cars is the 40-50 times increased excise tax, which is charged on trucks older than 5 years, as well as the mandatory environmental standard not lower than "Euro-5". The law, which temporarily lowered the environmental standard to "Euro-3" has so many conditions and restrictions that in practice it did not have any effect: it was used from the beginning of its validity until the end of October during the importation of only 12 vehicles.
It is almost impossible to make a full-fledged rating in such conditions, but you can see the general trends and the need in the market.
Iveco Daily (Turbo/Power) — 19 pcs.
MAN TGL — 18 pcs.
Mercedes-Benz Sprinter — 15 pcs.
MAN TGX — 11 pcs.
Mercedes-Benz Atego — 11 pcs.
DAF XF — 5 pcs.
DAF LF — 4 pcs.
MAN TGS — 4 pcs.
Volvo FH — 4 pcs.
Mercedes-Benz Actros — 3 pcs.
The most popular new trucks
The number of new truck sales is also too small to form a quality rating. The general trend is shown by the rating of the most popular brands of imported trucks in October.
IVECO — 12 pcs.
JAC — 7 pcs.
MAZ — 4 pcs.
FIAT — 3 pcs.
XCMG — 3 pcs.
And also the rating of brands that manufacture or convert new trucks in Ukraine.
Subscribe to the Telegram channel of the Auto Market Research Institute to be the first to receive information without advertising or spam.