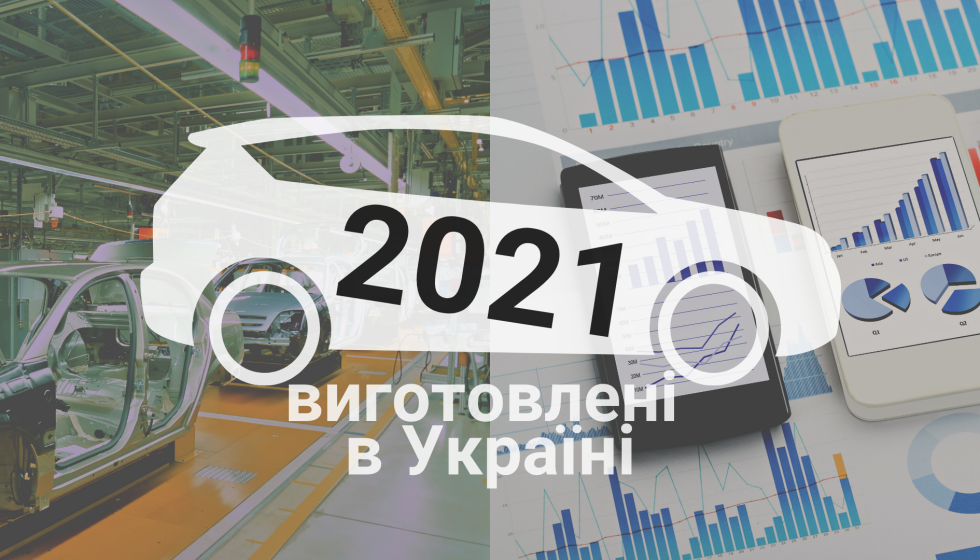 How many and which cars were built in Ukraine in 2021
As of today, there is no production of full-cycle cars in Ukraine. However, every year a small number of cars with Ukrainian VIN-code and Made in Ukraine marking come off the assembly line. How many such Ukrainian cars were purchased in 2021 and the top 20 «domestic» models, experts from the Automotive Market Research Institute determined.
During 2021, 10.1 thousand cars were sold in Ukraine, which were manufactured by the method of large-unit assembly in Ukraine. This is 44% more than in 2020. However — very little, compared to the number of cars manufactured in the European Union or the United States — there these numbers are measured in the millions. The number of «domestic» cars is small and in the overall structure of sales of new cars in Ukraine — a little less than 10%.
Dynamics of sales of new cars manufactured in Ukraine
Most cars manufactured in Ukraine were purchased in December and June, and the least in February. Since the total number of sales of such machines is small, even a few hundred units can dramatically change these statistics.
Given that a significant part of «domestic» cars are special equipment, ie converted cars for medical services, police and other specific purposes, which are sold at public auction, it is almost impossible to identify any trends in this market segment.
Who bought new cars made in Ukraine
Most of the Made in Ukraine cars (51.2%) were purchased by legal entities — public and private organizations. Thus, the real interest of private buyers in cars made in Ukraine is equal to half of all sold «domestic» cars.
The most popular models of imported cars with mileage
In 2021, Skoda sold the most «domestic» cars in Ukraine — in 36.7% of cases. In total, 3.7 thousand cars of this brand were purchased during the past year. They are manufactured at the Eurocar plant in the Zakarpattia region from machine kits originating from the European Union.
The second place in the ranking was taken by the products of the Zaporozhye Automobile Plant — LADA cars. In 2021, there were just over 2,000 (20% of the total). They were made of machine kits originating from the Russian Federation. Since the import of any car from this country has been banned since 2019, high-knot assembly is the only way to sell Russian cars in Ukraine.
In third place — the products of the brand «SCS», with a share of 14.2% of this market segment (1.4 thousand cars). Under this brand, vehicles are manufactured by Spets-Kom-Service LLC, which manufactures specialized vehicles, including police and medical care, on the basis of imported machines and machine kits.
If we analyze the model range of cars manufactured in Ukraine, in 2021 the most bought Skoda Kodiaq (1.6 thousand cars), Skoda Karoq (1.3 thousand cars) and Lada Vesta (0.7 thousand cars).
Interestingly, 8 of the 20 most popular models are made of machine kits originating from the Russian Federation (Lada Vesta, Kia Rio X-Line, Lada Granta, Renaut Arkana, Lada Niva, Kia Rio, Lada X-Ray and Lada Largus).
7 cars from the top 20 are specialized vehicles, mostly ambulances and police cars. In total, in 2021, 2.8 thousand such vehicles were purchased, which is 28% of the total sales of «Ukrainian» cars.
Skoda Kodiaq — 1 623
Skoda Karoq — 1 338
Lada Vesta — 733
Kia Rio X-Line — 658
Citroen Jumper (medical) — 549
Skoda Fabia — 537
Renault Duster (police officer) — 531
Lada Granta — 497
Renault Arcana — 490
Lada Niva — 464
Peugeot Boxer (medical) — 336
Kia Rio — 308
Toyota Corolla (police) — 250
Lada X-Ray — 175
Skoda SuperB — 167
Kia Sorento (medical) — 160
Lada Largus — 158
Volkswagen Crafter — 157
Volkswagen Crafter — 127
Peugeot 301 (police officer) — 107
It is important to use analytics and forecasting to keep abreast of change and earn more in the car business. The Automotive Market Research Institute can help with this. Write to us at [email protected] !