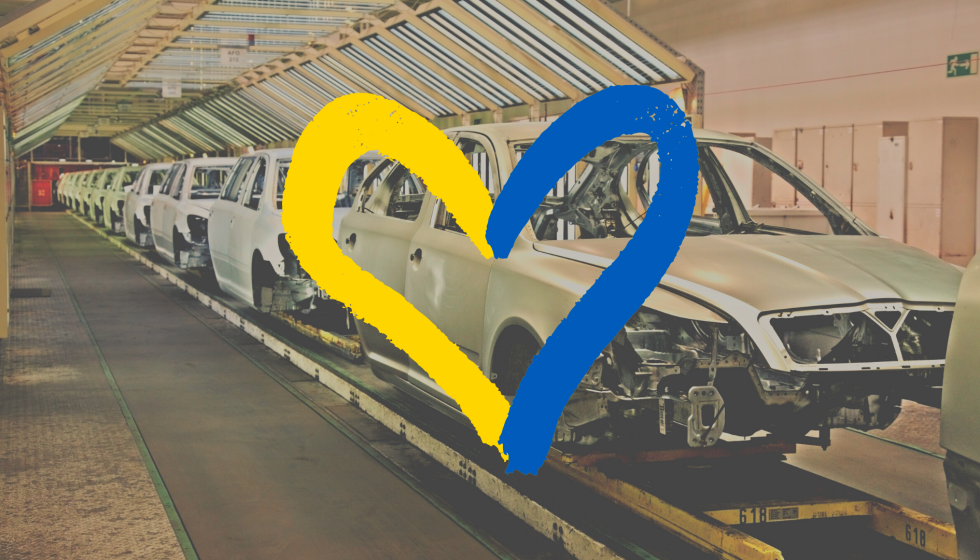 Analytics: what is the future of Ukrainian automobile plants?
In recent years, there has been no production of full-cycle cars in Ukraine. The latest "purebred" Ukrainian model — ZAZ "Slavuta" — has not been produced since 2011, and the "folk" Lanos was removed from the assembly line more than 5 years ago. However, before the war, a certain number of vehicles with Ukrainian VIN-codes and Made in Ukraine markings were produced annually. Experts from the Institute of Automobile Research researched what these cars were and what Ukrainian plants could expect in the future.
During 2021, Ukrainians bought 10.1 thousand cars, 2 thousand LCVs, 1.7 thousand trucks and 0.9 thousand buses, which were manufactured by the method of large-unit assembly at domestic plants. In total — 14.7 thousand motor vehicles, which is 43% more than in 2020. However — very little compared to the number of cars manufactured in the European Union or the United States, where these numbers are in the millions.
The number of "domestic" cars is small and in the overall structure of sales of new cars in Ukraine last year was less than 10%. Most of the Made in Ukraine cars (66%) were purchased by legal entities — public and private organizations. This increased interest can be explained by the fact that during public procurement the products of domestic enterprises have an advantage in accordance with the law. For example, 45% of the total number of "Ukrainian" cars in 2021 were specialized vehicles — such as police cars, ambulances, collection cars and more.
To better understand the situation in the domestic automotive industry, experts from the Research Institute studied the sales of new vehicles manufactured in Ukraine in 2021. Most of them were sold domestically, with only 672 vehicles exported abroad. Thus, sales in Ukraine will show the real state of affairs with the automotive industry of Ukraine.
Cars
In 2021, Skoda cars were the most sold in Ukraine among Ukrainian cars. They were manufactured at the Eurocar plant in the Zakarpattia region from machine kits originating from the European Union. Namely — models Kodiaq, Karoq, Suberb, Fabia and Octavia. In total — 3,300 cars.
In second place are the products of the Zaporozhye Automobile Plant — LADA cars. In 2021, just over 2,000 were sold. In addition to various models of the Russian brand, the plant also included Kia Rio, Kia Rio X-Line and Renault Arkana. In total — 3.5 thousand cars.
All cars Zaporozhye plant consisted of machine kits originating from Russia. Since the import of any car from this country has been banned since 2019, high-knot assembly was the only way to sell Russian cars in Ukraine. The percentage of localization of production was minimal.
In third place — the products of LLC " Spets-Com-Service " (Cherkasy), which manufactures on the basis of imported machines and machine kits of specialized vehicles. The most needed in 2021 were police cars based on Renault Duster and Toyota Corolla, as well as medical cars based on Kia Sorento (0.16 thousand). In total, the company sold 1.4 thousand cars of its own production.
Small commercial equipment
The leader in sales of small commercial vehicles weighing up to 3.5 tons of its own productionin 2021 there was ViDi Unicommerce LLC (Kyiv region), which manufactured specialized vans under the VD brand, mainly based on Citroen Berlingo (1.2 thousand cars).
Motor Development Group LLC (Kharkiv region) produced cars under the HDC brand. In fact, these were Russian GAZelles with a changed logo. Assembly of these cars in Ukraine can also be considered a circumvention of the embargo on imports of cars from Russia. They sold a few in total — 168 pieces last year.
In third place was the specialized equipment from the previously mentioned brand " SCS " (153 pieces). These include police vans and pickups, bread vans, and mobile garages.
Trucks weighing more than 3.5 tons
The leader in the segment of sales of trucks of its own production (or rather re-equipment) in 2021 was LLC " Techkomplekt " (Kiev). The company sold 268 vehicles under the TK brand, most of them dump trucks, gas stations and forklifts. In many cases, Russian GAZelles and Belarusian MAZs were used as chassis.
Second place — for cars of the brand " InerCargo Truck " (Cherkasy) of the company of the same name. In total — 233 vehicles sold last year. The company produces mainly special cars for food transportation and refrigerators. They are built on the basis of European chassis — Iveco, MAN, Scania, DAF, Mercedes-Benz and others.
Spetsbudmash LLC (Kyiv region) was the third in 2021 — 194 vehicles sold. The products of the SBM brand, manufactured by the company, are mainly special equipment: garbage trucks, sand spreaders, tanks, fuel tanks, road repair machines, etc. The basis was both Russian and Belarusian chassis (KamAZ, MAZ, GAZ), and from other countries (Renault, Iveco, MAN, Daewoo, Foton, Shacman and others).
Buses
Ukrainian buses are almost the only segment of Ukraine's automotive industry that can be called something more than just SKD assembly. Although the chassis and main components are supplied by factories in other countries, the body is manufactured and installed in Ukraine.
We are talking, first of all, about JSC " Cherkasy Bus ", which manufactures buses under the brand Ataman. Last year, 301 were sold. The chassis and main units of the bus are mainly provided by the Japanese ISUZU.
Another 284 buses sold by Etalon were manufactured at the Boryspil Bus Plant (Kyiv Region) and the Chernihiv Automobile Plant. Chassis and unit suppliers are India's TATA plant, China's FAW, India's Ashok Leyland and others.
In third place — buses assembled at the Zaporozhye Automobile Plant. 104 of them were sold. These buses were also built mainly on the TATA chassis.
Prospects of Ukrainian car production
Several key changes have taken place since Russia's full-scale invasion of Ukraine. Each of them will affect the future of domestic car plants.
1. No more Russian brands, chassis and spare parts. Trade with the occupying country is prohibited at the state level. No more "Lad", "Niv" and "Gazelle". All companies that have built their business in cooperation with Russian companies will have to either change the business model or simply liquidate.
We are talking, first of all, about the Zaporozhye Automobile Plant. The entire model range, which was produced there during 2020-2021, is no longer available. Most likely, it will be impossible to resume production of cars at the plant.
The work of Motor Development Group LLC is also under threat. The company urgently needs to find a replacement for the Russian Gazelle. Since these machines were chosen primarily because of the lower price and cheaper maintenance, further work is also in question. In such cases, Chinese and Indian manufacturers could become potential alternatives to Russian and Belarusian components.
Other companies that have partially used chassis and spare parts from Russian and Belarusian manufacturers (in particular, KAMAZ and MAZ) will be able to adapt, as in most cases they already have alternatives from other countries.
2. Decrease in purchasing power of Ukrainians. Sales of new cars fell significantly. Demand for new vehicles will be low in the near future. Ukrainians will prefer cheaper used vehicles. Including — commercial.
Special vehicles made on the basis of imported chassis will have a better chance. Their price is usually 20% cheaper than imported counterparts. In some cases, foreign counterparts are absent.
3. Changing supply chains and shortages of components. The problem faced by all world producers cannot but affect Ukrainian production. To increase car production, we will need spare parts, which are globally lacking in the world.
The problem can be partially solved by localization of production within the country, but not all technologies are currently possible to generate in Ukraine.
4. Prospects of the European Union. This is probably the most important thing that can affect the Ukrainian automotive industry. The doors that have opened to Ukraine will transform the country from a site where the SKD mainly consists of a small number of vehicles from foreign spare parts, which are sold mostly in the Ukrainian market — to a country with real full-cycle production facilities and world-class cars.
However, this first of all requires a global change in philosophy and a transition to another level. From the production of non-competitive products in small quantities, focused on domestic sales, with parallel bans on the import of foreign cars — to create conditions for the work of global manufacturers in Ukraine.
To put it simply, go the way of Poland, the Czech Republic and Slovakia. These countries had a very similar situation before joining the European Union: their own uncompetitive car manufacturers, often on the verge of bankruptcy. The right reforms have allowed the Czech Skodi to become part of VAG and a powerful European brand; Poland and Slovakia — to become a platform for world factories. And that is tens of thousands of jobs and billions of euros in the economy.
The single economic space opens up enormous opportunities. But it requires steps in return. You can start today. To begin with, changes are needed in taxation, for "zero" imports of equipment, raw materials, components from the EU and exports of finished cars from Ukraine. At the same time — creating an investment-attractive climate. Development programs, special conditions for manufacturers and guarantees.
Existing businesses may be attractive. Transcarpathian "Eurocar" probably has the best chances. First, due to the geographical proximity to the border — only a few kilometers. As well as the availability of convenient infrastructure — European-style railways and routes of national importance in the immediate vicinity of the enterprise.
In summary, we can say that as of today in Ukraine there is virtually no automotive industry in the usual sense. There is no full cycle production. Therefore, it can only exist in the long run after global change. The greatest opportunities will appear on the path to European integration. On the one hand, Ukraine may be attractive for the construction of new or reconstruction of existing automobile plants, on the other hand, there will be a huge market for these plants in the form of the European Union. And the most important condition today, of course, is Ukraine's victory in the war with Russia.