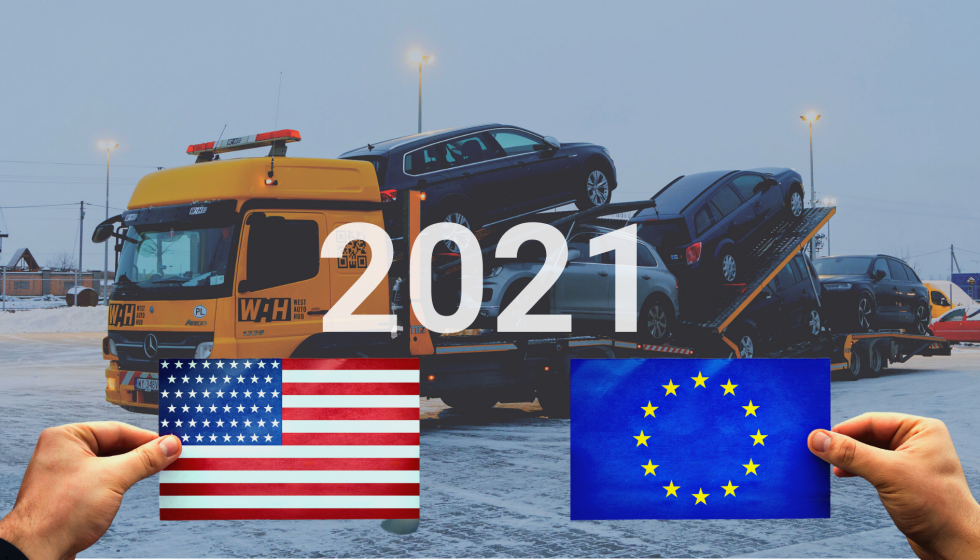 Most used cars in 2021 were brought from the European Union. Top models
Last year, Ukrainians brought more than 600,000 used cars from abroad. This figure turned out to be a record for the Ukrainian car market. In 2021, most cars were imported from the European Union, and the share of cars from America was twice as small. Experts from the Automotive Market Research Institute analyzed the dynamics of imports, determined the countries from which Ukrainians bring cars with mileage, and formed a rating of the most popular models of used «Americans» and «Europeans».
In the Service Centers of the Ministry of Internal Affairs, license plates in 2021 for the first time received 533 thousand cars with mileage. The difference between actually «cleared» and registered cars can be explained by the difference in time between customs clearance and registration. Sometimes the queue stretches for several weeks, so some cars registered in December received license plates in January 2022.
Also, some cars are regularly brought for further disassembly into spare parts. There is no sense in registering such cars, so the number of imported cars in the statistics of the State Customs Service is always slightly higher than the number of first registered cars in the Service Centers of the Ministry of Internal Affairs.
The peak of imports of used cars from abroad was the period of July-November, when the «legalization» of the so-called «europlates» continued. More than 86,000 such cars have been registered. The vast majority of them were brought from the European Union, so the largest share of «Europeans» was recorded during this period — 78% in October.
However, after the end of the period of preferential customs clearance, the share of cars from Europe decreased insignificantly and stopped at 73%. For comparison, in January 2021 the share of cars from the EU was at 49%, and in February — 59%. The share of cars from the Americas was 41% in January and 22% in December. Thus, since the beginning of the year, the share of cars from the EU has increased and in 2021 amounted to 65.8% of the total (397 thousand cars).
Cars from American countries, which included the United States, Canada and Mexico, were 27% (163 thousand in quantitative terms). Ukrainians brought 44,000 cars from other countries, which accounted for 7.2% of the total.
The popularity of cars from Europe is due primarily to the geographical location of Ukraine. Bringing cars from Europe is faster and easier than bringing them from America. In addition, Europe has a much better chance of buying an «unbeaten» car.
Buyers of «American» cars see other benefits — «fresh» year, good price, less mileage and rich equipment. However, each product has its own buyer, and we only state the fact that imports of used cars from Europe are twice as high as imports from America, and the share of cars from other countries is small.
The most popular countries for buying used cars from abroad
If we consider the structure of imports in more detail and divide the regions into specific countries, the United States comes first. In 2021, the largest number of used cars was brought from this country — 158 thousand (26.1%).
In second place was Poland with a share of 20.3% (123 thousand). The number of cars that Ukrainians buy here in the domestic market is relatively small. In most cases, this country acts as a «transit zone» on the way used cars from Western Europe to Ukraine.
The third place was taken by the largest car market in the EU — Germany. Last year, Ukrainians bought 76,000 cars there, which is 12.5% of the total number of imported cars with mileage.
Lithuania, which took the fourth place in the ranking, is also a transit country in the process of exporting used cars from Europe to the East and is known for its cars. Favorable tax legislation allows Lithuanians to profitably buy cars with mileage in other EU countries, prepare for sale and sell for export. For example, Ukrainians, who in 2021 bought 72 thousand cars in Lithuania (11.8%).
In fifth place was Estonia (26 thousand cars, 4.2%), which also serves as a «transit zone» for Ukrainians. The same applies to Slovakia (12,000 cars, 1.9%) and Hungary (10,000 cars, 1.7%), which ranked eighth and ninth, respectively.
Cars from South Korea should be singled out. This is one of the youngest markets that Ukrainians have «mastered». During 2021, 14,000 cars with mileage (2.3%) were brought from there. Most of them were cars with gas engines.
Georgia took the tenth place with a share of 1.6%. Ukrainians bought 10,000 cars there last year. These were mostly cars that were brought from America, South Korea, Japan and sometimes even Europe, prepared for sale and later sold to Ukrainians. This business model works thanks to the loyal laws and low taxes that apply in Georgia.
Other countries that were not in the top 10 most popular accounted for 15.2% of total imports (92,000 cars).
The most popular cars from Europe
The most popular «European» car with mileage, which was brought from abroad by Ukrainians in 2021, was the Volkswagen Golf. In 2021, 25.5 thousand of them were registered. In second place was Škoda Octavia (24 thousand), and third place went to Volkswagen Passat (23.8 thousand).
It is noteworthy that in the top ten most popular used cars from Europe, there are no premium brands and models of the executive class. Most Ukrainians buy compact city and family cars abroad.
Interestingly, in the consolidated ranking of «Europeans» and «Americans» Volkswagen Passat ranks first. This once again confirms the thesis that the import of cars from Europe and America — different markets, with their own characteristics and trends.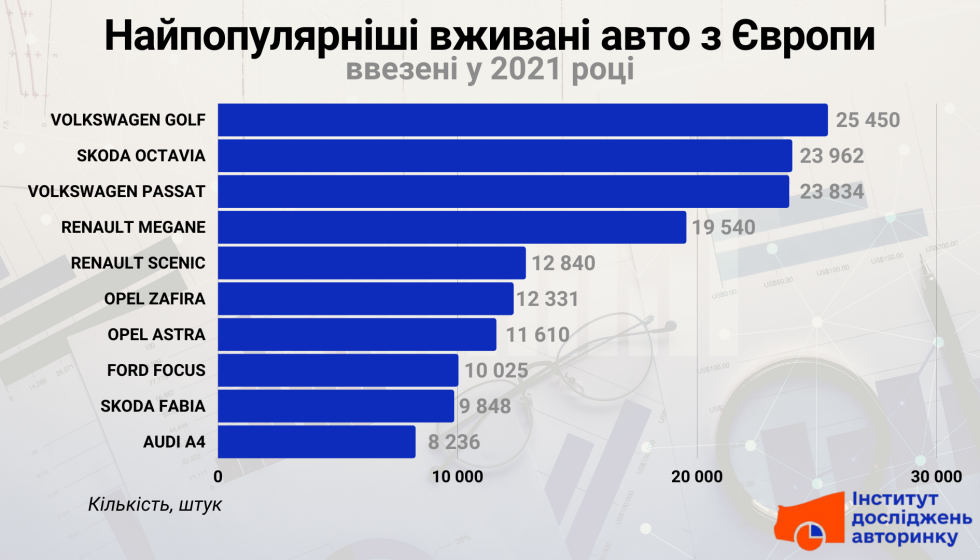 VOLKSWAGEN GOLF — 25 450
SKODA OCTAVIA — 23 962
VOLKSWAGEN PASSAT — 23,834
RENAULT MEGANE — 19,540
RENAULT SCENIC — 12 840
OPEL ZAFIRA — 12 331
OPEL ASTRA — 11,610
FORD FOCUS — 10 025
SKODA FABIA — 9,848
AUDI A4 — 8 236
The most popular cars from America
The bestseller of 2021 among the used «Americans» was the Volkswagen Jetta (7.2 thousand). Second place went to Volkswagen Passat (6.8 thousand), and third — Ford Fusion (6.6 thousand).
Interestingly, 4 of the 10 most popular models among cars imported from America, took crossovers. These are Ford Escape (4.8 thousand), Dodge Journey (4.1 thousand), Nissan Rogue (3.8 thousand), Jeep Compass (3.3 thousand) and Jeep Cherokee (3.3 thousand). ).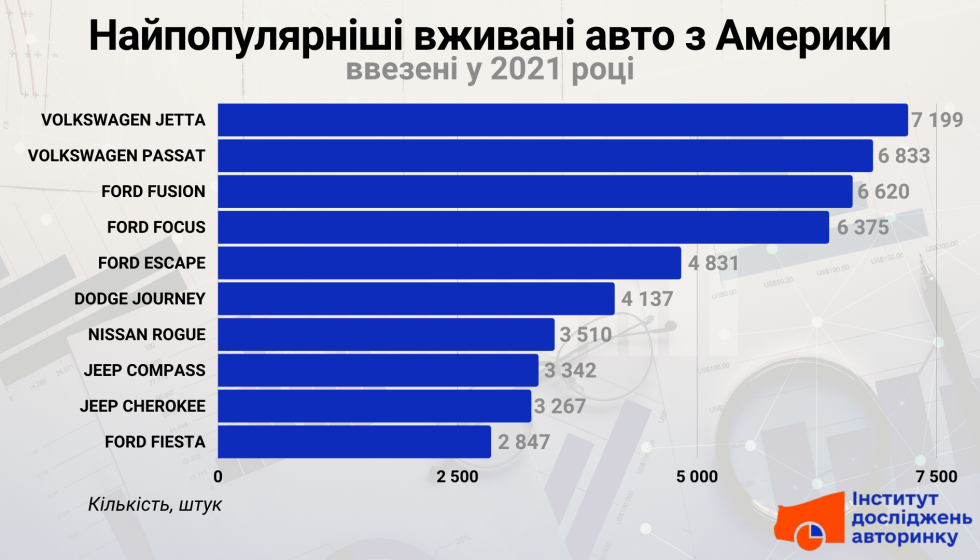 VOLKSWAGEN JETTA — 7 199
VOLKSWAGEN PASSAT — 6 833
FORD FUSION — 6,620
FORD FOCUS — 6 375
FORD ESCAPE — 4,831
DODGE JOURNEY — 4 137
NISSAN ROGUE — 3,510
JEEP COMPASS — 3 342
JEEP CHEROKEE — 3 267
FORD FIESTA — 2 847
The team of the Automotive Market Research Institute monitors the automotive market of Ukraine in real time and is the first to talk about important things. Follow the site and subscribe to our pages on social networks to find out first.