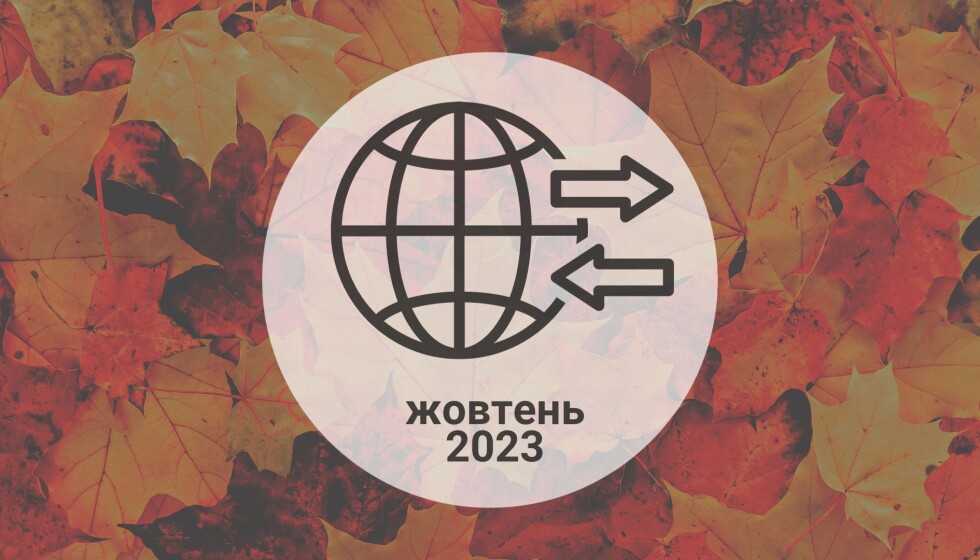 Where and how much are used cars brought from abroad? Analytics
Despite all the difficulties, the volume of motor vehicle imports is gradually increasing: at the beginning of this year, about 10,000 cars arrived in Ukraine per month, and according to the results of October, more than 27,000 used passenger vehicles were submitted for customs clearance. Most of them will later be registered at the service centers of the Ministry of Internal Affairs.
Europe is closer. They bring more from there
In October 2023, 27,100 used cars with mileage passed customs clearance. Most came from the countries of the European Union — 16,600, or 61.3%. From American countries, 9,200 cars were submitted for customs clearance, which is 33.9% — still a significant share, but significantly less than before, when cars from the USA and Canada accounted for more than half of all new arrivals. Dealers, mostly independent, continue to establish logistics connections with China — 446 cars, with a share of 1.6%. A similar number of passenger cars arrived from South Korea — 405 units, almost twice as many from Georgia (223 units) and even less from Great Britain — 207 units.
At the same time, it is worth noting that after a significant decrease in the volume of imports of passenger cars from American countries, caused by the blocking of Ukrainian seaports by Russian terrorists, this direction is gradually being restored. Dealers who used to deliver cars from the USA and Canada have now restructured their logistics through the ports of Europe — Lithuania, Romania, and Poland. It has become more expensive to deliver a car from America, because delivery through Europe by truck is added, however, for models whose market price in Ukraine is over 15-20 thousand dollars. even such a difficult route is justified.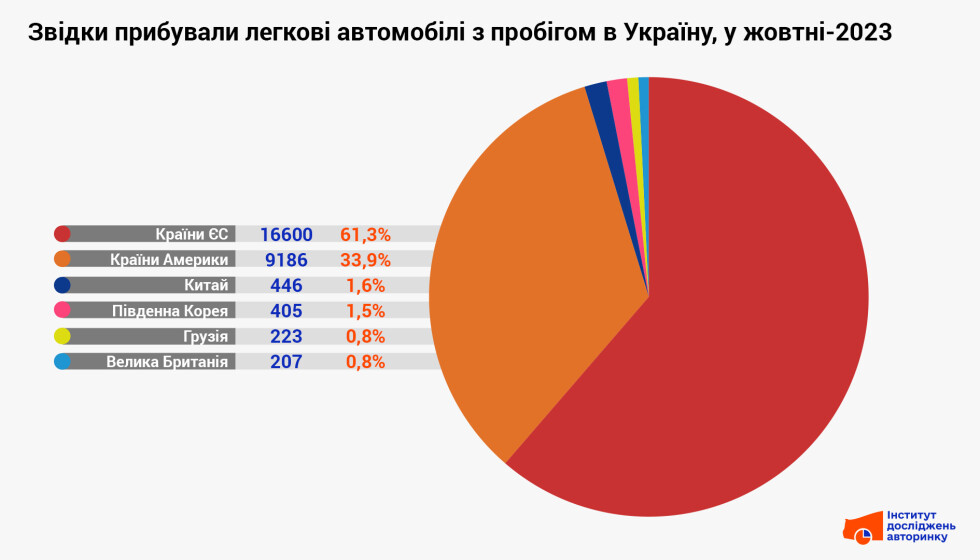 If we analyze the trends of buying used cars from abroad in terms of individual countries, and not regions in general, then according to the statistical customs results of October, the United States of America is in first place with a solid share of 33.1% and 9 thousand passenger cars. Cars from Germany do not lose their appeal — 4.8 thousand used cars arrived from there, which allowed the country with the largest car market in Europe to take second place in this rating with a share of 17.7%. 3,500 cars arrived from Poland, and their share reached 13%.
It should be added here that Poland and Lithuania often play the role of "transit countries", cars are often not bought there, but only export documents are drawn up, so the share of cars actually purchased there may be smaller.
USA — 9 thousand pcs.
Germany — 4,800 pcs.
Poland — 3.5 thousand pcs.
Slovakia — 1.5 thousand pcs.
Norway — 1,000 pcs.
The Netherlands — 0.9 thousand units.
France — 0.7 thousand pcs.
Lithuania — 0.6 thousand units.
Switzerland — 0.6 thousand units.
Czech Republic — 0.6 thousand pcs.
Estonia — 0.6 thousand units.
China — 0.4 thousand pcs.
Belgium — 0.4 thousand pcs.
South Korea — 0.4 thousand pcs.
Sweden — 0.3 thousand pcs.
Georgia — 0.2 thousand pcs.
Canada — 0.2 thousand pcs.
Hungary — 0.2 thousand pcs.
Great Britain — 0.2 thousand pcs.
Denmark — 0.2 thousand pcs.
How much money did you spend on used cars from abroad?
In October 2023, Ukrainians bought used cars abroad with a total customs value of 8.5 billion hryvnias. At today's official exchange rate, this is about $236 million.
The most money was spent on buying cars from the USA (over 3.5 billion hryvnias). Germany took second place. Ukrainians spent a little more than 1 billion hryvnias on cars exported from this country. In third place is Poland with a total customs value of 967 million hryvnias for used cars imported from there.
Used cars from China took fourth place (513 million UAH). Norway closes the top five (464 million hryvnias).
USA — UAH 3,515.2 million
Germany — UAH 1,067.6 million
Poland — UAH 966.8 million
China — UAH 513.4 million
Norway — UAH 463.6 million
Slovakia — UAH 461.2 million
France — UAH 224.2 million
The Netherlands — UAH 207.5 million
Czech Republic — UAH 163.6 million
Lithuania — UAH 134.5 million
South Korea — UAH 132.2 million
Estonia — UAH 127.3 million
Switzerland — UAH 100.4 million
Hungary — UAH 96 million
Belgium — UAH 85.6 million
Canada — UAH 70.4 million
Great Britain — UAH 47.6 million
Sweden — UAH 47.3 million
Hong Kong — UAH 38.7 million
Georgia — UAH 34.7 million
The actual value of the car may differ — both higher and lower, because the concept of "customs value" and the true price of the car are different concepts. Due to the imperfection of the customs system, statistics show more cheaper cars, although in reality their number is smaller — because their real value is higher.
How much do used cars from abroad cost?
The main trend of Ukrainian imports remains unchanged: affordable cars worth $1-2 thousand have the greatest demand among Ukrainians. October was no exception either, during which there were 11.2% of the total number of imported goods. In general, 72.7% of all imported cars in October 2023 cost less than $10,000.
In general, due to the low purchasing power and difficult economic situation in Ukraine, the greatest demand for imported cars is observed in the budget segment. Since high customs fees make importing a large part of used cars in the affordable price category economically unprofitable, buyers often refuse to buy a used car from abroad and prefer cars in the domestic market. Currently, the market split for first registrations and sales transactions within the country looks like 20:80.
In which countries are the cheapest cars?
Used cars brought by Ukrainians from China turned out to be the most expensive. Their average cost was $33.8 thousand. And this value is significantly higher than for all other countries, which is explained by the popularity of "almost new" cars from China, mainly electric ones, which pass customs clearance as used. This time, Hungary is in second place with an average price of $12.9 thousand. The third place is for cars from Norway — $12.2 thousand, the fourth is for cars with mileage from the USA — $10.7, the fifth — from Canada, $ 8, 9 thousand
Used cars from Spain ($5.5 thousand), Belgium ($5.4 thousand) and Slovenia ($5.3 thousand) had the lowest average customs value of the twenty countries listed here.
China — $33,848
Hungary — $12,873
Norway — $12,189
USA — $10,706
Canada — $8,960
South Korea — $8,923
Slovakia — $8,458
France — $8,457
Austria — $7,957
Poland — $7,500
Czech Republic — $7,273
Italy — $6,630
Great Britain - $6,409
Germany — $6,088
The Netherlands — $6,062
Estonia — $5,751
Lithuania — $5,712
Spain — $5,517
Belgium — $5,384
Slovenia — $5,287
Subscribe to the Telegram channel of the Auto Market Research Institute to be the first to receive information without advertising or spam.