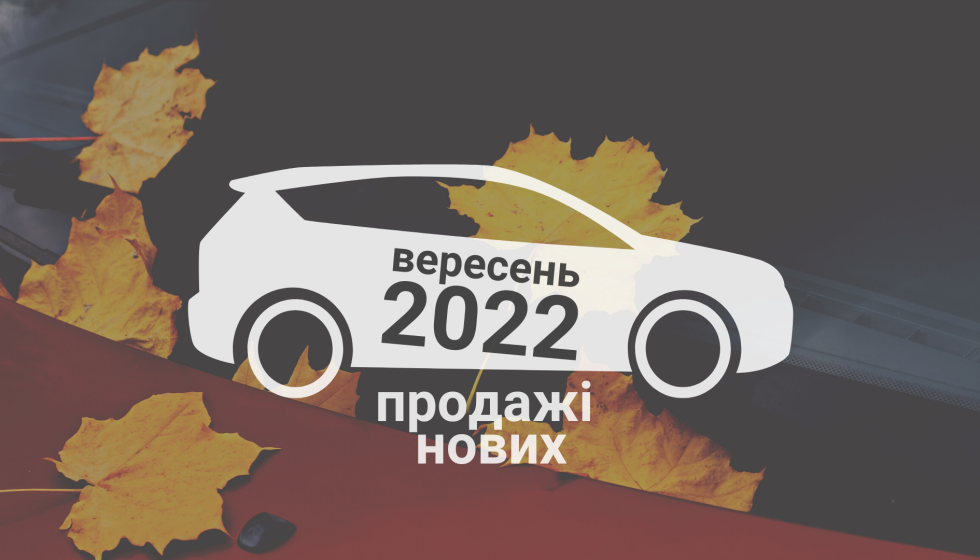 The market of new cars is coming to life, crossovers are at the top. Results of September
Experts of the Institute of Car Market Research analyzed vehicle registration statistics and named the most popular new cars of September — imported and manufactured in Ukraine.
Dynamics of the new car market
In September, Ukrainians bought more than 3,500 new cars. This is 64.3% less than in September last year and 11.2% more than in August 2022. The market of new cars is gradually recovering.
Most new cars in September ( 90.5%, 3,180 units) were imported from abroad. The share of passenger cars manufactured in Ukraine by the method of large-unit assembly was 9.5% (335 units). This is the largest indicator since the beginning of a full-scale war.
The most popular new imported cars
Most often, when buying a new car in September, Ukrainians chose Toyota (646 units, 20.3%), Hyundai (279 units, 8.8%) and BMW (252 units, 7.9%).
Mitsubishi (233 units, 7.4%) and KIA (217 units, 6.8%) also made it to the top five most popular brands.
Among the models, Toyota RAV-4 became the bestseller in September. 305 such units were purchased — twice as many as the Mitsubishi Outlander, which took second place with an indicator of 165 cars sold. On the third step — Kia Sportage (153 units), and on the fourth — Toyota Land Cruiser Prado (143 units). Hyundai Tuscon closes the top 5 (121 units).
Thus, in the first five new cars of September there are only crossovers and an SUV. In total, out of 20 cars in the rating, as many as 15 are of these classes. Thus, it is possible to ascertain the formation of a trend: when buying a new car, Ukrainians prefer practical universal cars.
Toyota RAV-4 — 305 pcs.
Mitsubishi Outlander — 165 pcs.
KIA Sportage — 153 pcs.
Toyota Land Cruiser Prado — 142 pcs.
Hyundai Tucson — 121 pcs.
BMW X5 — 114 pcs.
Toyota Camry — 114 pcs.
Renault Duster — 106 pcs.
Volkswagen ID.4 — 97 pcs.
Mercedes-Benz GLE-Classe — 88 pcs.
BMW X6 — 78
Peugeot 301 — 76 pcs.
Renault Express — 75 pcs.
Toyota Land Cruiser — 57 pcs.
Skoda Octavia — 55 pcs.
Lexus NX — 49 pcs.
Kia Stonic — 47 pcs.
Mercedes-Benz GLS-Classe — 43 pcs.
Volkswagen T-Roc — 42 pcs.
Chery Tiggo 4 — 41 pcs.
The most popular models of new passenger cars assembled in Ukraine
Of all the cars that make up Ukrainian cars from imported car kits, Skoda cars were sold the most in September — 217 units (64.8% of the total number of such cars).
The second most popular brand was the Russian Lada, which was assembled at the Zaporozhye Automobile Plant before the start of the Great War. The 32 cars of this brand, registered in September, are obviously the remnants of warehouse cars, because today trade with a terrorist country is prohibited.
Two manufacturers of specialized vehicles engaged in the conversion of cars for communal services, police, ambulance, etc. were also included in the rating: SKS and Avtospetsprom (25 and 15 registered passenger cars, respectively).
Among the models, Skoda Kodiaq became the most popular (134 units). The second place is for another model of this brand, Skoda Karoq (65 units). The third place (19 registered cars) was taken by Lada Vesta.
Skoda Kodiaq — 134 pcs.
Skoda Karoq — 65 pcs.
Lada Vesta — 19 pcs.
Renault Duster (police) — 14 pcs.
Volkswagen Crafter — 11 pcs.
Fiat Ducato — 10 pcs.
Skoda Fabia — 9 pcs.
Skoda SuperB — 9 pcs.
Peugeot Boxer (medical) — 8 pcs.
Lada Granta — 7 pcs.
Subscribe to the Telegram channel of the Auto Market Research Institute to be the first to receive information without advertising or spam.