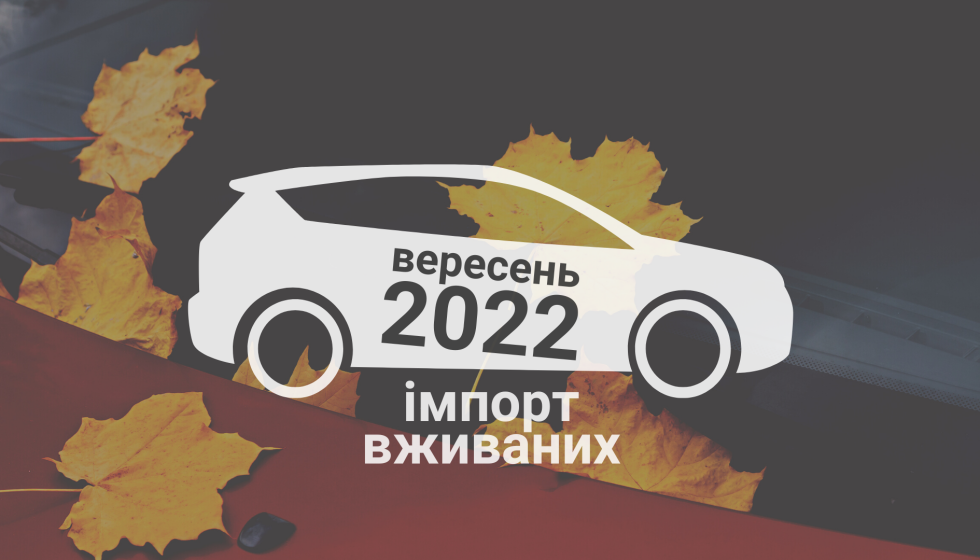 What used cars are brought from abroad today? TOP-20 models of September
The rate of import of used cars has decreased sharply after the cancellation of the so-called "zero" customs clearance. Cars with mileage are still imported from abroad, but in much smaller quantities than before. Experts of the Institute of Car Market Research analyzed the statistics of car registrations and identified the top 20 most popular models that were imported from abroad in September.
At the beginning of autumn, the share of "freshly driven" cars with mileage in the structure of the car market decreased to 17%, and this is the lowest value since the import tax rates were changed in 2018. For comparison, last year imported cars had a share of 29 to 41% in the secondary market. About the number: last year, on average, our fleet was replenished by 44,400 "freshly driven" cars every month. In 2022, while "zero customs clearance" was in effect, twice as many arrived — about 85,000 passenger cars per month. After the abolition of benefits, the pace dropped sharply: in August, 19,400 passenger cars were "driven", in September — 16,200.
The most popular brands among imported cars with mileage
Volkswagen was the leader among used car brands in September 2022. The share of cars of this brand, if compared with September 2021, remained almost unchanged — decreased from 18% to 17.4%.
Second place was taken by Renault, whose share also remained almost unchanged at 8.8%. Ford is in third place ( 8.2% share), and Nissan is in fourth place ( 6.1% ). Audi took fifth place with a share of 5.7%.
Also in the top ten were Skoda (5%), BMW (5%), Opel (4.3%), Hyundai (3.7%) and Mazda (3.2%).
It is noticeable that, contrary to certain problems with the delivery of cars from American countries due to the temporary stoppage of seaports, there are typically American brands in the top 20: Jeep, Dodge and Chevrolet.
The most popular models of used cars from abroad
Most often, in September, Ukrainians brought Volkswagen Golf from abroad with mileage: 854 units. This model overthrew the perennial leader of "freshly driven" passenger cars, the Volkswagen Passat ( 687 units ), into second place. The third place was taken by Renault Megane (545 units).
Skoda Octavia ( 512 pcs. ) was placed on the fourth step, and Renault Scenic ( 390 pcs. ) on the fifth. Ford Focus ( 389 cars) was in sixth place, Audi A4 was in seventh place with 279 registered cars.
Unexpectedly, Nissan Rogue (278 units) ended up in 8th place. This is a sign that the logistics of cars from America is improving. The ninth place in the rating was taken by the most popular electric car in Ukraine, the Nissan Leaf (258 units). Rounding out the top ten is the Volkswagen Jetta (252 units), which is also imported from the USA.
In general, the August top-20 of the most popular used cars from abroad looks like this:
Volkswagen Golf — 854 pcs.
Volkswagen Passat — 687 pcs.
Renault Megane — 545 pcs.
Skoda Octavia — 512 pcs.
Renault Scenic — 390 pcs.
Ford Focus — 389 pcs.
Audi A4 — 279 pcs.
Nissan Rogue — 278 pcs.
Nissan Leaf — 258 pcs.
Volkswagen Jetta — 252 pcs.
Volkswagen Tiguan — 242 pcs.
Ford Fusion — 238 pcs.
Opel Zafira — 237 pcs.
BMW 3 Series — 223 units.
Volkswagen Touran — 221 pcs.
Skoda Fabia — 213 pcs.
Opel Astra — 201 pcs.
Hyundai Sonata — 192 pcs.
Audi A6 — 190 pcs.
Ford Kuga — 176 pcs.
Subscribe to the Telegram channel of the Auto Market Research Institute to be the first to receive information without advertising or spam.